07:
Double-sided and easy to perch in small spaces, vanity mirrors are the charming way to primp and preen. Here are our favorites, from classy bronze to punchy plastic.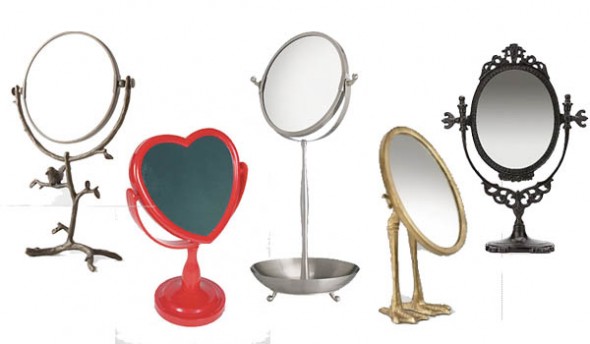 The wee songbird perched on this Anthropologie mirror will keep you company as you agonize over the size of your pores. $148.
Pretty sure I had some version of this growing up, though mine was most certainly covered in glitter stickers. $16 from Plasticland.
The shallow bowl below the IKEA Lillholmen mirror is the perfect catchall for jewelry, coins and all those random tubes of ChapStick you find when doing laundry. $14.99.
This golden duck mirror from Shop Ten 25 is further evidence that animal legs make everything cuter. $102.50.
Rouge your lips and kohl your eyes in this old-timey model from Urban Outfitters. $49.00.

[ad#ad-5]