22: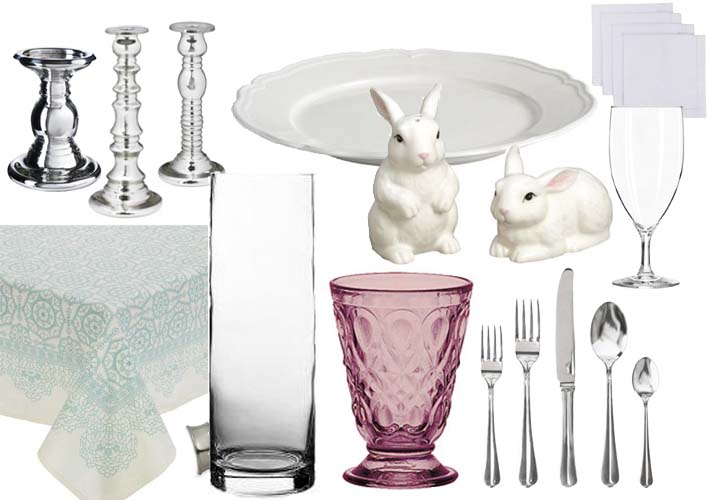 Happy Easter! I love setting the table for the holidays because it lets me to show off my playful side. I put together a colorful Easter table with an eclectic, antique appeal. Most of these items you probably have in your own cupboards but if you don't we have provided affordable options to create the look.
Begin with this tablecloth, 100% Cotton. Eclectic elegance. $19.00.
Plates. Subtle Elegance. $3.99.
Cutlery. Classic Elegance. $39.99 for a 20 piece set.
Bunnies! These charming S+P shakers bring that Easter feeling to the table. I would buy two sets and put one on each end of the table. $12.88.
Simple, versatile napkins with just the right amount of detailing. Come in a rainbow of colors. 4 for 15.60.
This gives the table a little color. Without these the table would be pretty but not nearly as fun. 6 for $29.49.
Add some classic affordable everyday glasses. It is important that this glass is bigger than the decorative glass, it gives the table depth. 12 for $43.49.
These napkin rings are versatile enough for the holidays and for everyday use. $2.95.
Love! Always group in odd numbers. I would buy three of each and make two groups on each end of the table.
$8.99-10.99 each
A basic tall glass vase is all you need for cherry blossom branches. They make a statement on their own but if you have a great ceramic piece that adds to this eclectic look then by all means use it! $5.99.
[ad#ad-5]