20:
We've all been there: disassembling a piece of IKEA furniture whilst moving to a new place, only for it not to assemble back together again as nicely as before. To blame?  Flimsy base materials, dentible veneers and shoddy joint construction, for starters. Still, even this cut-price titan offers sturdy items that can withstand years of use and relocation. The trick is to steer clear of pieces made primarily of particle board (exhibit A: Expedit Shelving Unit) and veer toward those made of solid pine or stainless steel. Here are our favorites: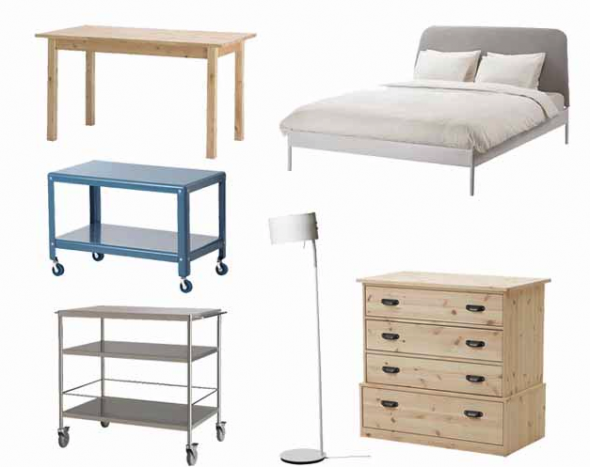 The loveably simple Bjorkudden table is made of plain pine.  Jazz it up with a coat of paint or leave unfinished and abuse it into having a character all its own (coffee stains, dents, candle drippings—you get the idea). $99.
Handy coasters and a turquoise powder coating make the stainless steel PS 2012 coffee table your sofa's new favorite sidekick. $49.99.
Industrial yet quaint, the Fjell 4-drawer dresser is made of solid pine and boasts old school metal drawer pulls. $299.
The Duken bed frame is made of steel that's powder coated in sleek white. The dotted gray headrest is removable for washing, so it's easy to keep clean. $199 for a queen.
Stash extra pots and pans or dried goods in the stainless steel Flytta kitchen cart, while using the flat top surface as extra chopping space. $159.
The steel-based Ledet floor lamp has a flexible arm to direct light and a diffuser to make it softer. $49.99.
[ad#ad-5]