27:
Hollywood |ˈhälēˌwoŏd|
1. a district in Los Angeles, the principal center of the U.S. movie industry. 2. the U.S. movie industry and the lifestyles of the people associated with it : he was never seduced by the glitz and money of Hollywood.
regency |ˈrējənsē|
1. relating to or denoting British architecture, clothing, and furniture of the Regency or, more widely, of the late 18th and early 19th centuries. Regency style was contemporary with the Empire style and shares many of its features: elaborate and ornate, it is generally neoclassical, with a generous borrowing of Greek and Egyptian motifs.
Hollywood Regency isn't just so hot right now, it's so hot always. This classic style has been around since Hollywoodland's golden age of cinema and combines a myriad of other design styles (modern, art deco, chinoiserie, etc.) with drama, comfort, sophistication, and, above all, luxury.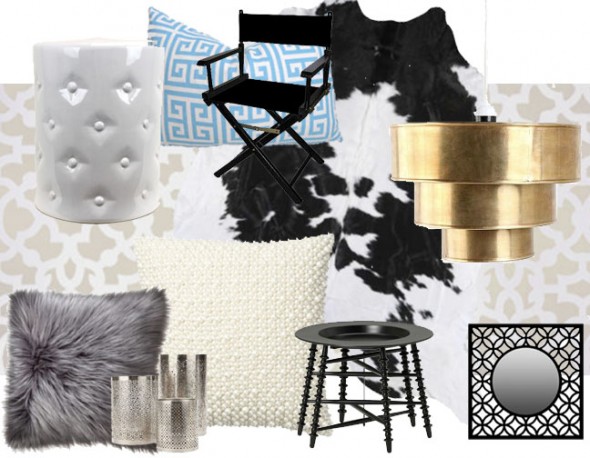 It's true that it is difficult to find pieces most coveted by luxury lovers for low prices. But we are frugal materialists, and this means that we've found some fab n' frugal-friendly items that will have you belting Hooray for Hollywood in no time!
Lighting is everything! Invest in a sexy pendant lamp or sophisticated set of candleholders to get that Hollywood glow.
Your backdrop should be just as beautiful as you are, so take the day off and stencil your walls in any shade you like. These patterns are gorgeous!
The only thing pricier than a mirror is a mirror in the style of Hollywood Regency. Imagine my surprise when I came across this charming number from Target at such a great price! Paint it white to up the glam factor.
A round of applause for these Oscar gold-worthy throw pillows, please.
I love a director's chair as an accent chair in all kinds of homes, but when better to use one than now? Unfold, throw on a pillow (pictured above), and you're set.
A beautiful, refurbished vintage cabinet is the perfect place to display your many awards. The handles will match the statues brilliantly.
Set a coupe of champagne down next to you while you curl up on the couch. Ah, the lifestyles of the frugal and famous.
We've featured the seating, the walls, the lights, the mirrors, but now it's time for the next character's dramatic entrance…RUG enters. She is sexy, proud, subtle but bold.
So there you have it. A highly glamorous style for a fraction of what the stars, producers, and executives pay!
[ad#ad-5]