18: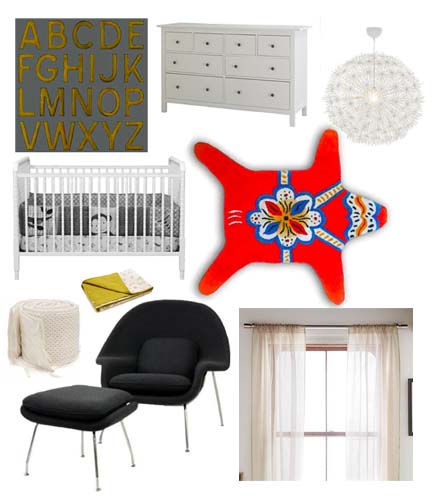 My friend Sarah is having a baby girl and received this vibrant Scandinavian Dala Horse Rug as a gift for the nursery. She loved it so much she asked me to help her design her baby room around it.
We painted the room in a medium, warm gray with crisp white trim to ground the energetic primary colors in the rug.

White linen sheer curtains from West Elm were added to soften and dress up the wooden blinds on the windows.
To give the room a more feminine touch I chose to play up the gold in the rug and use it as my accent color. Auggie bedding is playful and has a wonderful vintage modern appeal. We paired it with a scalloped crib skirt in white from The Company Store for $29.00.
Furnishing a baby room can get expensive so we went with pieces that have longevity and dual uses. This painted wood spindal crib has an antique look for only $169.00 AND it transforms into a toddler bed when the time comes.
This low white dresser from Ikea has clean, simple lines that don't compete with the crib and can double as a changing table with one of those nifty toppers they make.
The Womb Chair, one of my favorites and even though it doesn't rock it has the right name. The real thing goes for $3,000 and up but this one looks pretty great and is a steal at $598.00. This piece will look just as good in her room now as it will when she is 16 or 35…. The dark gray is classic and neutral.
Don't forget the accessories! This Ikea pendant adds a feminine touch to our non-frilly room and promises to project 'decorative patterns onto the ceiling and on the wall.' Install a dimmer switch for less harsh evening lighting. $89.
These 6″ wood letters are made in the USA. We painted them in a lovely golden rod and sanded them away a bit to give them a vintage feel. Get cute with it by painting the baby's initials a different color. $2.45 each.
[ad#ad-5]