29:
If there's one thing most New Yorkers never have to grapple with, it's the Problem of Having Too Much Space. But for those out there (in New York and beyond) lucky enough to have an extra room just lying around, consider turning it into a proper guest room. The ingredients for a successful guest space are pretty simple: a cozy bed, mood lighting, something soft under foot and little touches, like flowers and stationery. All of the relatives, friends and friends-of-friends who come trailing through your life each year will thank you.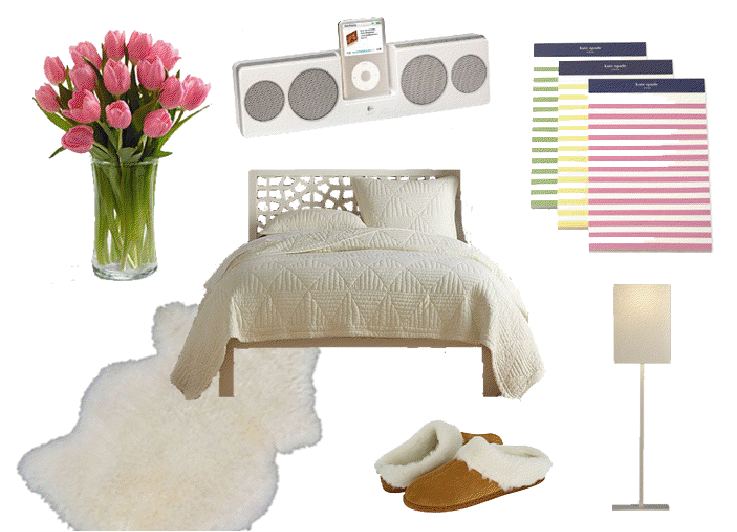 West Elm's Moroccan headboard provides structure and flare (starting at $299). Propped up with pillows, it's good for leaning back for a nighttime read. For bedding, think light-colored sheets with a high thread count. Good ol' flannel works too, especially in colder months.
Back up any overhead lighting with a floor lamp (or sconces) that have dimming shades, like this CB2 Midrise Floor Lamp with a linen shade. $99.95.
A fluffy rug is always nice and the sheepskin ones from IKEA are an affordable $39.99.
Presuming that your guests won't blast AC/DC until the wee hours, definitely include some iPod docking speakers, like this Logitech model from Amazon. $85.99.
Kate Spade's darling striped notepads are great for dressing up a desk or side table. $12.00 for a pack of three.
These Minnetonka Moccasin mules are a nice spin on boring, white hotel slippers. $40 from Zappos.
Regardless of whether they're from the florist or the corner store, flowers are a small touch that go such a long way.