24:
This clean and contemporary bedroom designed by Brian Watford is the definition of "city chic." The Atlanta-based designer successfully blends modern sophistication with vintage luxury pieces to create spaces that are warm and inviting. By incorporating organic patterns and fun accents of teal in this bedroom, he was able to keep the crisp lines and the grey neutral background from being too cold, adding brightness and personality.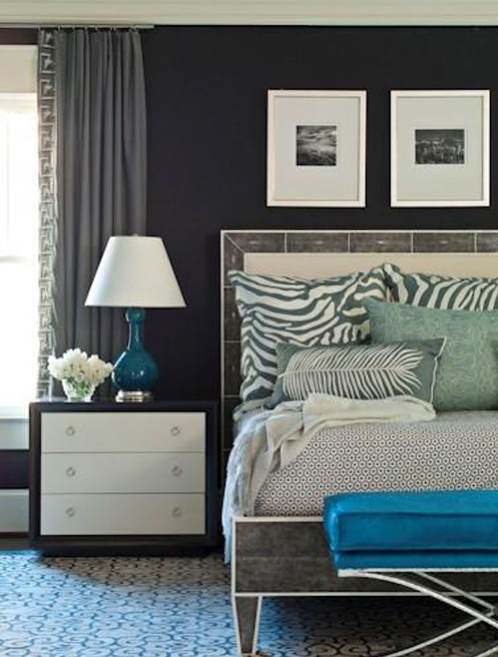 Use this moodboard and the frugal finds below to recreate your own little piece of the city.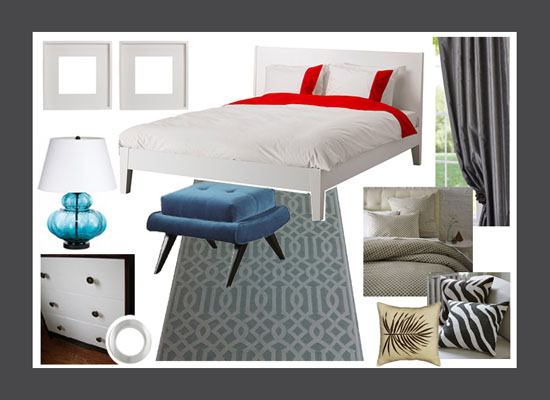 Start with the dark grey Deep Indigo wall color from Benjamin Moore. $35.99/gallon
While dark colors could make a space feel smaller than it is, use light colored furniture that contrasts well, drawing focus away from the walls and making them recede into the background.
The white Nordli Bed frame from IKEA is $280 and has the same lines as the inspiration bed.
Dress the bed with the Jacquard Pattern duvet cover ($70-111) and Zebra Pillow covers ($39.00) from West Elm to soften the hard lines of the bed frame. Finish with a leaf throw pillow from Target ($30.00) for a low-cost and unexpected accent.
The Armen Living 5th Ave bright blue ottoman from Amazon.com ($227) at the foot of the bed is both functional and way to add a bright accent color to this otherwise neutral room.
Recreate the two-toned dresser with the Frugal Shopper's best friend, a simple DIY project. Use the incredibly versatile and inexpensive IKEA Rast dresser ($35.00), along with some dark walnut stain, high gloss white enamel paint and finish with some satin circle drawer pulls for $5 each to get just the right look.
Use lighter grey window treatments for $70.00 from Sears to contrast the wall color and dress up with windows.
This area rug from Home Goods was only $50.00. Look for one with a repeating pattern that isn't too geometrical to work with the bedding.
Accessorize the space with white frames filled with your favorite black and white prints, and a blue lamp like the one below from Home Goods for $20 to tie the color scheme together.
[ad#ad-5]