02:
Find: Bunk Bed Ladder
Location: 11th Ave
I happened to find this ladder on the sidewalk deep in the middle of my Ladder Bookshelf obsession, that or it spawned my obsession…chicken,egg.  When I convinced the boyfriend to help me bring a completely useless ladder home late one night, I was still pretty unsure what exactly it would turn into. Not wanting to let on and risk losing the manpower, I rattled off some vague bookshelf project and started brainstorming in my head.  This ladder belonged to a standard issue set of bunk beds, therefore the wood was a bright laminated pine, with the feet cut at angles to best warrant leaning and climbing. While perfectly reasonable for a bunk bed ladder, it made it almost impossible to keep the ladder upright. After a few trips to Loews wandering around, doing my best not to look like the clueless girl among contractor men, I decided that building some sort of square base would take the pressure off the angled feet and keep it from sliding. In the end I made a very basic square base and will probably add the pads that are on the bottom of chairs to curb any sliding. Bracketing into the wall is also a good way to secure the ladder, but being a renter I don't really want to go there!
There are a couple different ways to do this project, all involving some manner of the same additions. Below are some ideas for turning this ladder into a functioning piece in your house!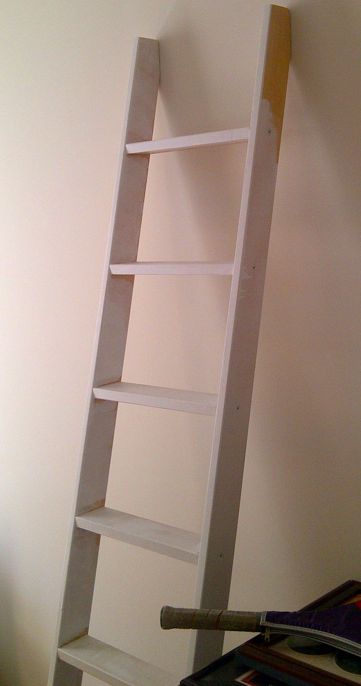 Amazing use for a ladder! While my ladder is more "little boys room" than "beautiful design showroom in Norway", the concept is beautiful and would be a great take on a traditional wall mounted shelf. With the right paint color and items on display it could be a really fun piece in any room.
In a perfect world I would have a massive sunny house, with hundreds of built in bookshelves and cabinets and would NEED a traditional library ladder. While I am a lifetime away from that, the idea of a library ladder has always been so attractive. Even with a standard tall bookshelf, if given the right base, the ladder could be simply propped up against the bookshelf to mimic the idea of a library ladder!
Another slightly more advanced project would be to create a pot rack from an old ladder. If the wood of the ladder sturdy enough, it could easily be mounted and hung from the ceiling to add some charm to a usually standard pot rack. Pot racks in the right kitchen as a fun way to display all your pots and pans and any variation on the traditional style would be great!
I decided to go with a bookshelf/craft "closet"/office organizer. I added a few squares of craft wood to the bottom two rungs to create larger shelves, added a backboard to one for even more shelving and created a square base on the bottom. I painted with the grey paint I had from last weeks table project and went crazy with about 100 ft. of sisal twine to create some texture and add a rustic element. I am SO excited with the end result.  By turning this into shelving, it can be used in ANY room in the house; bathroom storage for towels, bedside table with a funky clip on lamp, bookshelves anywhere, office supplies…the uses are endless!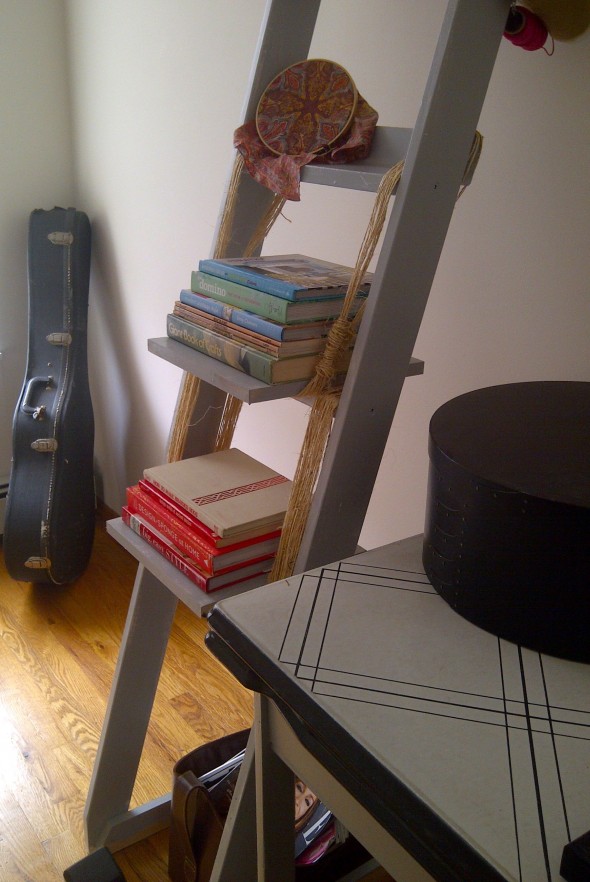 [ad#ad-5]