24:
My limited apartment space has made it tricky to pursue all those creative projects that I've kept on the backburner for much too long. So lately I've been thinking about rearranging my living room to create the ultimate studio space in lieu of the generic sofa-plus-coffee table layout. What better inspiration to get those juices flowing than Warhol's Factory?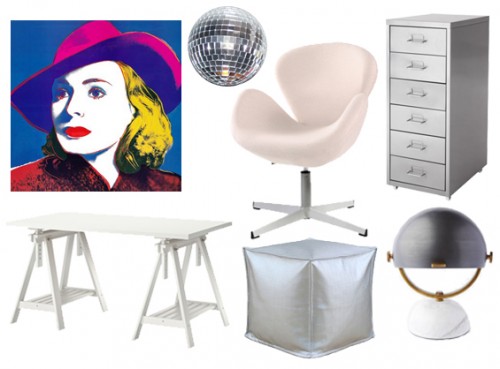 Sifting through photos of the Factory remind me of the basic rules for a great workspace: keep it cool and simple. With seating and storage used sparsely where needed, the Factory feels laissez-faire—a blank slate to let ideas flow, but with a mind-boggling silver backdrop that instantly adds the necessary hip factor. It's business and party all in one.
The Bentley Silver Pouf from One King's Lane is perfectly priced to allow for multiple quantities when company arrives. It adds that funky silver touch without the commitment.
A stylish chair that's also comfortable is key. I'm partial to this Swan Wool Leisure Chair from Overstock.
It's all about the basics when it comes to a good desk. I especially like Ikea's mix-n-match series, perfect for putting together a custom no-frills table top. This Linnmon/Finnvard model is tiltable for optimal painting and drawing.
Say what you will about Ikea, but they know how to do storage. The Hellmer drawer with casters is a fresh take on the usual filing cabinet, and its mini drawers are the perfect size for storing art supplies.
It's not complete without a little objet d'art, like this eye-catching yet minimalist retro lamp from West Elm. For additional work lighting, add simple task lamps where needed.
A Factory-inspired studio wouldn't be complete without an Andy Warhol print. If you love pop art but you're bored of the ubiquitous Marilyn and Campbell's Soup Cans, change it up with something surprising. Allposters.com has such an incredibly thorough selection of Warholian wonder to choose from, like this portrait of Ingrid Bergman. A large print like this one adds a pop of color to a muted backdrop.
If you live in New York, check out Casa Lever (a restaurant designed after an airplane cabin and decorated with over 20 oversized original Warhol portraits) for inspiration on hanging Warhol prints.
But I digress.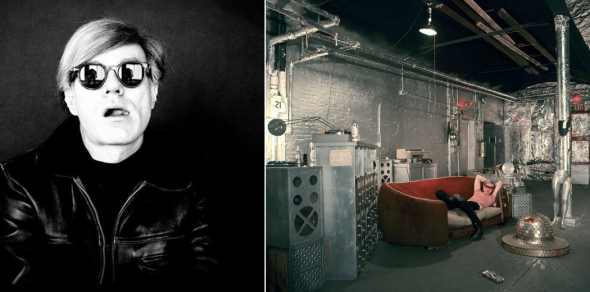 A studio/home office should feel like a place you want to spend time in and express yourself, because why stifle your creativity in a bland environment? If you're feeling up for it, try painting one wall silver. Add a disco ball for good measure, and you'll be channeling Warhol for your next project!
originally posted on ibby.com
[ad#ad-5]