14:
The best thing about the MoMA store is that, like the museum itself, its content is exquisitely curated. No filler or riff raff lurking here, thank you very much. And while some pieces do cross the line into pricey, a number are stylishly affordable. We highlight some of our favorites, and remind readers that a $75 annual MoMA membership also gets you 10% off store purchases—including big-ticket items!
The eye-popping Modern Classic Thermal Carafe will keep your beverages hot or cold for 12-14 hours. $36.00 (members: $28.80).
The Master Chair, co-designed by Philippe Starck and Eugenie Quitlett, could pass as a sculpture. Getting a whole set will put a big dent in your wallet, but buying just one and displaying it in a corner or next to a desk makes a big impact. $244 (members: $219.60)
The Garland Shade light is perfect for lovers of whimsy. Stick one in an otherwise lackluster room and voila—the space suddenly oozes character. $100 (members: $90).
[ad#ad-2]
The Tube Top Table Lamp is strikingly modern and minimalistic. It would look great on a utilitarian desk or side table. $120 (members: $108)
This is, in my humble opinion, the cutest tray table on the market these days. The Porter's C shape makes it perfect for saddling up next to a couch or bed and the red plastic top is removable. Don't even get me started on that adorable handle! $75 (members $67.5).
The Plywood Clock flies in the face of the notion that plywood is unsightly, for this little number is anything but. $80 (members: $72)
The 'Wrong Day, Go Back' sign sums it up pretty well. $16.00 (members: $12.80)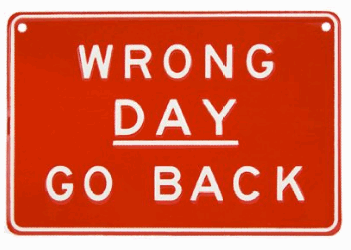 You might also like this MOMA nightlight we featured back in January.
[ad#ad-5]