19:
Should you ever find yourself in the market for a 1955 Frank Lloyd Wright lounge chair (to the tune of $15k+), 1stDibs is most likely where you'll want to look first (www.1stdibs.com). This online middleman for luxury antique and vintage items has a dizzying selection of beautiful things, making it a daily destination for interior designers on the hunt for special pieces. Not surprisingly, 99% of the things listed on 1stDibs on any given day are beyond the reach of most mere mortals. But he who seeks shall find, and FM has managed to find some absolute steals for $150 or below, no schlepping to the flea market required.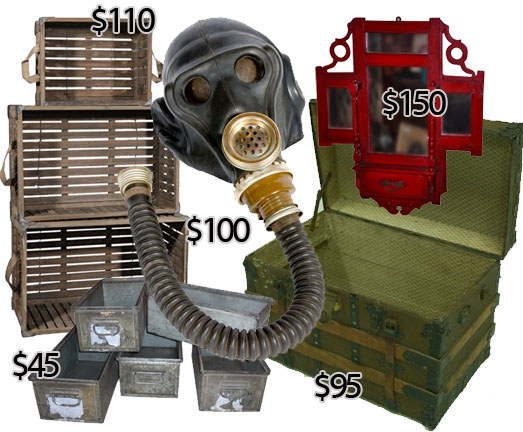 Old, beat up trunks make great coffee tables and  entry-way shoe receptacles. This 1900's version is to be had for $95.
A vintage gas mask certainly doesn't scream "practicality," but it would look pretty awesome displayed on a shelf, wall, or casually hung on a coat rack.
Stack this set of three wooden carrying crates and you'll have a makeshift media storage unit far cooler than anything you could find at IKEA for the same price.
Cool storage possibilities abound: stash smaller items in this set of five mid-century industrial galvanized aluminum bins.
Bring a hallway or bathroom to life with this red carved wood piece with mirrors, drawers and shelf.
[ad#ad-3]