26:
A nice bottle of wine or olive oil is always a good fallback, but if you want your next housewarming gift to really stand out from the crowd, try one of these unorthodox alternatives: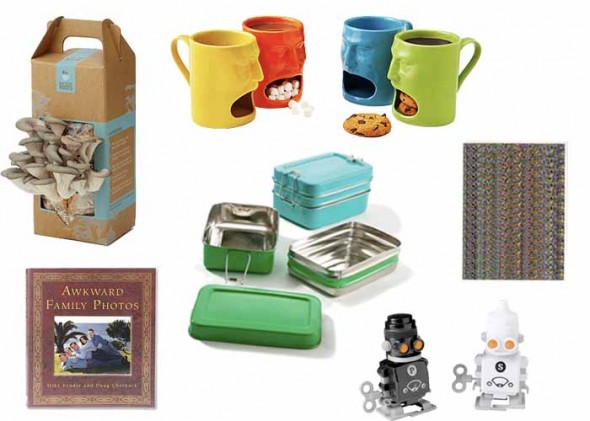 For the urban forager: an oyster mushroom log—simply water and wait for the edible spores to sprout. $19.95.
For anyone who came of age in the 90's and has an excess of white wall space: an old-school Magic Eye Poster. You'll have to cross your eyes to see the King Kong in this one. $14.99.
For the cookie lover: this snack-stashing set of Face Mugs. $35.
For the Martha Stewart-wannabe: these two-tier tiffin boxes from India, which are perfect for those organized enough to pack lunches or thoughtfully store leftovers. $9.99.
For the salt-loving Sci-Fi aficionado: robot salt + pepper shakers, which really wind and walk. $20.
For anyone with a coffee table and sense of humor: this side-splittingly funny collection of Awkward Family Photos. $15.99.
[ad#ad-5]