05:
As we've mentioned before, bathrooms are just the right size to get a little zany with décor. They're a much smaller commitment than, say, a living room and fun bathrooms always make for a nice surprise. A nautically-themed bathroom definitely plays off the water aspect and incorporates lots of navy blue, stripes and tarnished surfaces. You'll feel like you're "Under the Sea" every time you take a bath.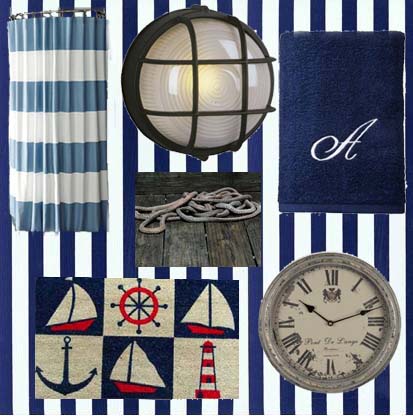 This nautical light is technically for outdoor use, but no reason you can't use it inside. $19.95.
Place this playful mat next to the tub. $36.41.
[ad#ad-3]
Keep track of time with this tarnished wall clock. $32.
Get some rope action in there, with this photo print. $34.99.
Blue striped shower curtain from West Elm. $39.00.
"A" stands for "Aquatic"—monogrammed bath towel from Target in navy. $21.99
[ad#ad-5]