26: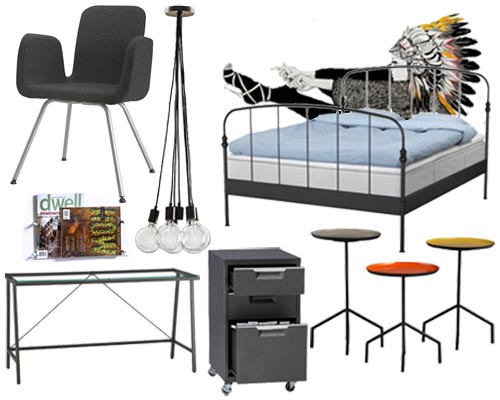 Unless your pockets run deep, it can take time to accumulate quality pieces—pieces that you want for the long haul and have the constitution to hold up on the journey. Unfortunately, you need stuff now, and this is never more apparent than when you move somewhere new, two suitcases in hand, or undergo a major life change that's left you "unencumbered" in the home furnishings department. In such instances, you need furniture that does the job in the interim without breaking the bank. And if you choose wisely, what you buy will be versatile enough that you can incorporate it in more secondary places (guest rooms, offices, etc) once you progress to more grown up furniture. This put together look is fairly unisex, readily available and cheap ($860).
When buying an IKEA bed, try to set your heart on one that's made of solid wood or steel—assembly is usually easier and it'll be less likely to fall apart. The Lillesand from IKEA is sturdy and doesn't scream "I'm from IKEA!" $179.
For coziness in a flash, add the PATRIK Visitor chair. $149.
The three set of Pablo tables from CB2 make great nightstands or side tables. $129.
West Elm's bulb pendant adds industrial charm. $99.
[ad#ad-3]
CB2 filing cabinet—because you always need more storage. $149.
The sleek Dwight console (also from CB2) is desk-savvy and not likely to go out of style any time soon. $169.00.
Show off your highbrow magazine collection in this clear holder. $39.95.
Wall decals from Blik are easy to install (and remove) and add a lot of character for minimal investment. This hipster in a headdress could be yours for just $95.00.
[ad#ad-5]