01:
When I moved into my first studio in New York, I didn't buy a desk, there was simply nowhere to display it gracefully. I realized, however, that a desk is absolutely essential to productivity – whether you compute, write, or craft, it's important to have an official designated workspace. These selected tear sheets from old issues of the beloved Domino Magazine offer great tips in layout.


Small place workspace tip #1
Open bookshelves like this one are key for dividing studio spaces and look great with thoughtfully arranged books and tchotchkes.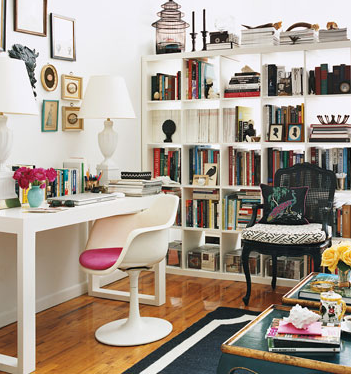 Start with a simple white glossy desk…
The original classic Tulip Chair designed by Eero Saarinen in 1956 costs over a grand from Knoll, but this version from Lexington Modern is a pleasing knockoff.
I like this fancy looking chain link rug from Macy's…
…don't forget the room-dividing bookshelf.
Small place workspace tip #2
Create a working nook from a small block of wall space using a skinny horizontal desk.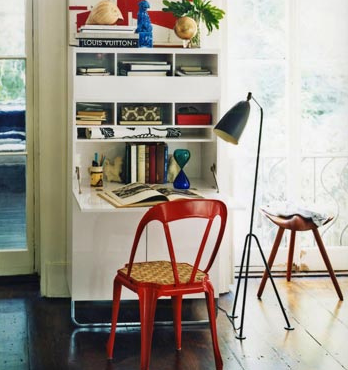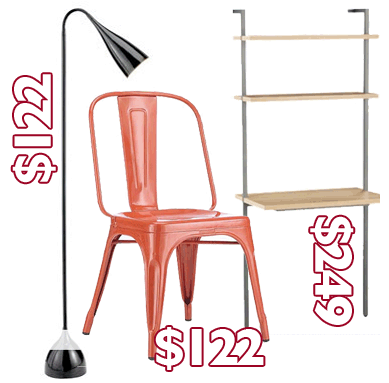 Originally made famous in the traditional bistros of France (designed by Xavier Pauchard for Tolix, 1934), this Marais A Chair has been popping up everywhere in NYC. Made of grade A steel and comes in a variety of colors.
This Gooseneck Floor Lamp creates comfortable work lighting without the need for a desk lamp, freeing up small desk spaces.
Small place workspace tip #3
Squeeze a small desk next to your bed, it doubles as a nightstand and works brilliantly for space-starved apartments.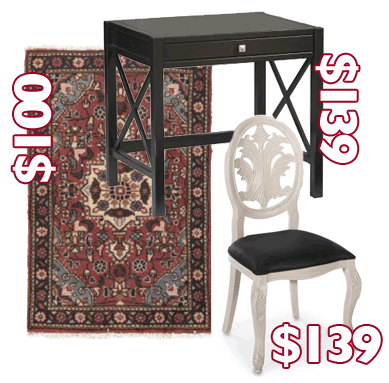 Look for a desk that's small enough to cram in that space between your bed and the wall. Also in white.
This chair from the Home Depot Home Decorators collection is handcrafted of solid wood is a perfect complement to the black laptop desk. Looks good enough to be in the boudoir, but comfy enough to sit in for a while. Also in mahogany.
An appropriately sized rug can be used to section off the space as a work area. I'm a fan of these persian style rugs from Ikea, a bargain at $99.
[ad#ad-3]