24:
For a lot of people, when they think of a bathroom renovation, particularly something luxurious, they instantly think it's going to be expensive. It's honestly reasonable to think about, too, because, typically, bathroom renovations are fairly pricey. Plus, if you want anything remotely luxurious, you can then expect this to be even more expensive. But thankfully, all of these renovations don't need to be expensive. In fact, you don't even have to get a new bathtub or a new shower in order to add some luxury touches to your bathroom. So, here is everything you need to know to bring in that luxury on a budget!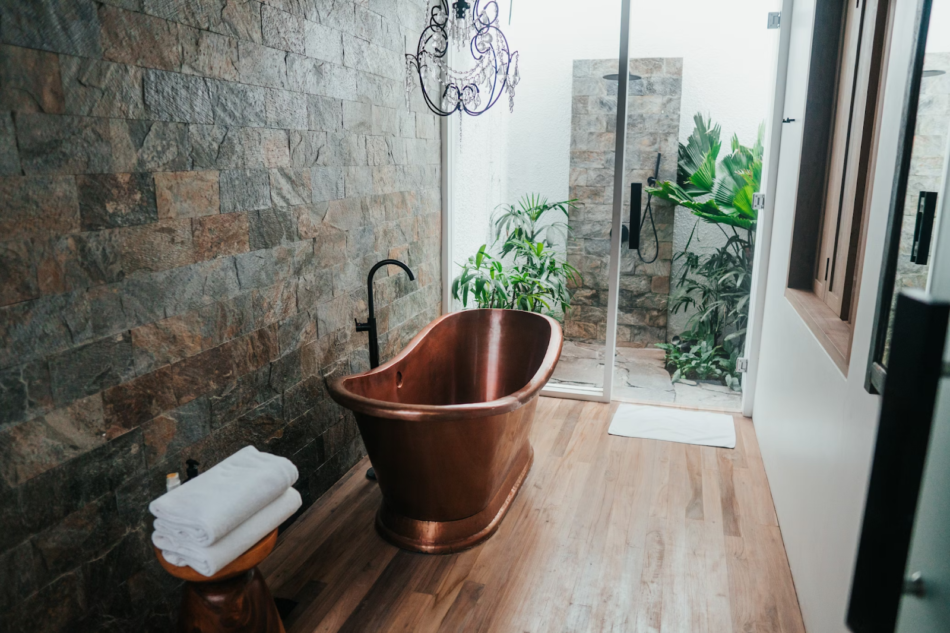 Start Off By Upgrading Your Faucets
Whether it's the shower, sink, or bathtub faucet, these little changes can make a massive difference! For the most part, new faucets are fairly inexpensive, and on top of that, you can count on this instantly giving off modern vibes to your home. Brassware is often described as the 'jewelry of a bathroom,' and pairing it with a stylish yet affordable basin or bath will deliver stand-out luxe style. But realistically, it doesn't need to be brassy. Overall, the main goal is to just make a transformation by doing something small and cheap. Plus, you don't even need to hire someone to install this, either.
Go with Tiles
You essentially need tiles for the bathroom, especially bathrooms that can't push out moisture quickly. Generally speaking, you can always check tile stores and select something from there. It will be entirely up to you whether you want them on the wall or floor, but some new tiles will certainly be a great way to make a transformation!
Add Some Plants
If you search "luxury bathroom ideas" on Google, one major theme you're going to find would hands-down would be planted. You're going to find all sorts of indoor plants, from the peace lily to palm trees, and so much more. Plants have a way of instantly uplifting a space, and for the most part, they don't need to be expensive, either. It's really about hunting around for good deals. While yes, a large palm plant may sell for $100, if you search hard enough or wait til the right season, you can expect to find major discounts. Now who doesn't love that?
Update Your Bath Rug
Honestly, all it really takes is a few simple tweaks, and styling tricks are all that's needed to turn your bathroom into a relaxing retreat. Texture is key when it comes to creating a luxurious vibe, but don't be afraid to mix things up with different surfaces and materials. For example, highly textured tiles look stunning when paired with brass fittings. But better yet, you need to have that softness to fit in there too. So, why not update your bathroom rug?
Don't Forget the Towels
The towels are going to make up a major part of the luxury experience for your bathroom, so this is something that you shouldn't neglect whatsoever! When it comes to the towels, it might be time to get some new ones. While luxury hotel-quality towels are expensive, you can't still find excellent ones for a low price. Better yet, you can even soak your current towels in vinegar and tumble-dry them to make them feel soft to the touch!