22:
The next time you're at a dinner party and there's a sudden lag in the conversation, stoke the fire by asking everyone to define 'steampunk.' Chances are, there will be a delightful variation in definitions, underlining the fact that it's a hard style to define with any authority. Is it Victorian? Is it Sci-Fi? Or is it rather turn-of-the-century industrial?
Whatever your definition, it's a concept that's much easier to identify than to define. This week, we've identified some stylish pieces that give a firm nod to the steampunk look, yet are modern and practical enough for everyday.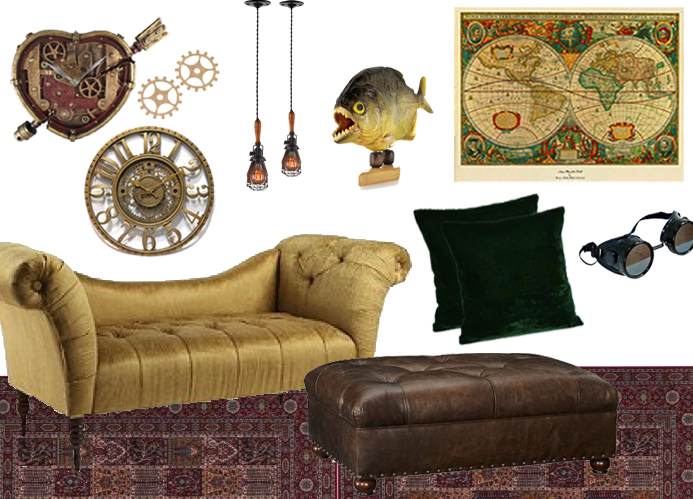 With its Victorian-era look and feel, the Luxe Fainting Couch from Urban Outfitters is a good place to start. Its rich dandelion color is also complementary of darker coordinating pieces. $649 Urban Outfitters.
The timelessness of Persian rugs means that they also speak 'steampunk.' $79.99 from IKEA.
The oversized Oliver Leather Ottoman from Pottery Barn is by no means cheap ($899), but look at it—it's a tank and you'd have forever. Plunk a tray on top and it also doubles as a great coffee table.

This repurposed pendant from Rejuvenation is a throwback indeed—check out its wire-guard shade, cloth-covered cord and stained oak base. $156 each.
If one indisputable thing can be said about steampunk, it's that gears and sprockets are its lifeblood. Pair open-gear clocks like these from Amazon as wall décor. $25 and $39.99, respectively.
It's a (faux) painted map of the Old World!  $124.99 from Overstock.
These dark green velvet pillows are lush, yet stern—just like that steampunk barista at Starbucks you've been pining for. 2 for $25.49 from Overstock.
I do declare—this piranha does appear to be of the man-eating variety. Perch it on a shelf as both a study in nature and as a reminder to be careful where you swim. $39 from Evolution.
[ad#ad-5]