02:
Hervé Pierre is the creative director for Carolina Herrera. A Parisian transplant living in a 1700 square foot Flatiron 2-bedroom for the past 15 years, he has crafted a home that screams "Paris in New York".
Below, a look at a section of the living room and how to create it.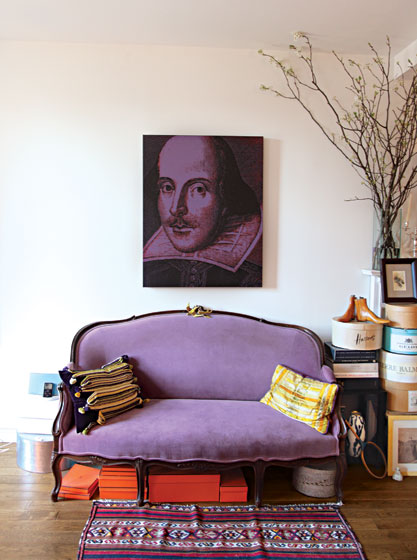 I love how knickknacks are tucked away into stacks of colorful shoe and hatboxes, the clever options for hiding clutter are endless! Try these ikea storage boxes or display your favorite shoeboxes as storage:
Layer this Shakespeare Portrait with a lilac tinted vellum paper (18×24 sheets for under $20) and your frame shop will do the rest.
Click here for the story and slideshow in New York Magazine's Home Design 2010 Issue.