10: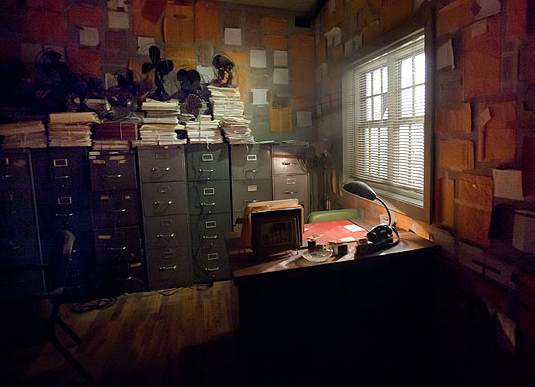 As highlighted in our Get the Look post from last week, Sleep No More is a totally unique immersive experience from Punchdrunk that redefines "theater." The dozens of rooms on display are so eerily beautiful that they suck you right in, with several looks that are downright covet-worthy. We featured the Sleep No More Living Room last week. This week, we feature the Sleep No More Office, as inspired by the several office-themed rooms that had a very old-timey detective agency feel.
An old, beat-up desk from the flea market makes the best choice, but this one from Amazon is a good second place. Amazon $259.95
The wooden swivel chair will never go out of style and is perfect for spinning around in circles as you "brainstorm." $229 CNS Store
This sturdy file cabinet from Global Industrial can house all the documents meant for your eyes only. $208.95
A real steal—this green "banker's lamp" from Office Depot is just $29.99. Office Depot, $29.99.
True, old typewriters aren't nearly as useful as that new iPad of yours, but can your iPad type out funny old love letters and invitations? Ok, it probably can, but this vintage model on Ebay just looks cool.
[ad#ad-3]

You simply aren't civilized unless you own a letter opener and a magnifying glass. $39.99 on Amazon.
Keep your cool on any job with an old-time desk fan. This Ecco version is $85.10.
The Ikea Tarnby rug is gumshoe friendly. $99.
When it comes to important note taking, one can never have too many steno pads. $3.61 from The Office Dealer.
[ad#ad-5]