22:
Building a look around a quality statement piece is a good way to anchor a room. When augmented with lower-cost pieces, it's also a good way to achieve a look that's greater than the sum of its parts. This week's Design Around is an office space based on a metal desk.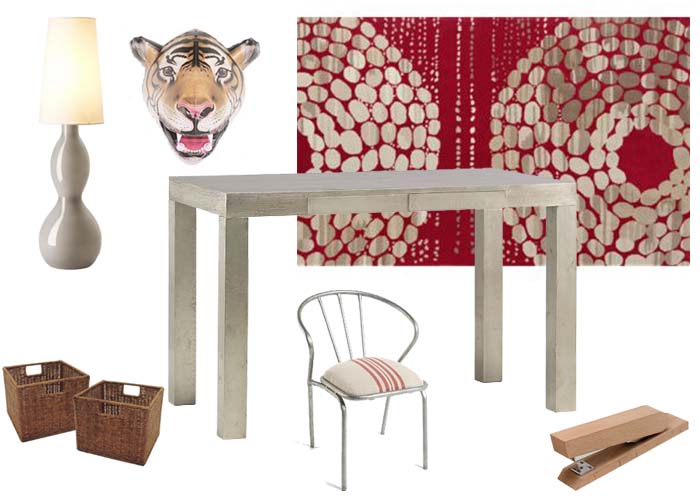 The Parsons desk is already a classic, but this hand-wrapped metal version from West Elm really steals the show. $499.
The CoCo Cabana chair from Urban Outfitters is made of reclaimed steel and would look great shimmied up next to the desk.  $189.
[ad#ad-3]
This Silver Pebbles rug from CB2 isn't necessarily cheap (at $399) but it's big (5′ x 8′) and—as The Dude would say—it really ties the room together.
The Ljusas Salbo lamp from IKEA is complimentary while maintaining a character all it own. $39.99.
A playful twist on the ongoing taxidermy craze, this inflatable tiger head makes for cheeky wall décor. $30 from Urban Outfitters.
These baskets are great for floor storage of books, magazines or all of your already-outdated electronics. $44.99 for 3, from Target.
Things made of wood that aren't normally made of wood are fun. Case in point: this stapler.  $28 from Seltzer Studios.
[ad#ad-5]