19:
When it comes to creating art for your home, it can sometimes be a headache. Getting all of the supplies and cleaning up after seem to be more of a hassle than completing the project.  That's why tape is a great way to add an artistic touch to your home. Yea that's right, tape! Tape is a great choice for diy art because it's inexpensive, it doesn't cause damage to walls or furniture and it's easy to clean up.
For this project all you need is painters tape, paint and a canvas (or shoebox top). Choose a base color to paint your surface. After the paint has dried place the tape in any pattern or shape that you want to. Then paint your taped off sections any color you choose. Wait until that dries to peel the tape off and enjoy your new piece of art.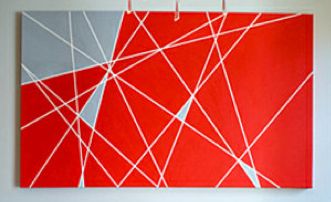 Is using paint still a little too messy for you? Well you're in luck; tape is also awesome by itself. There are tons of different decorative tapes to choose from. One of the most popular craft tape is washi tape. This Japanese tape is made of paper, very durable and come in hundreds of different colors and patterns. You can find inexpensive washi tape from Cutetape.com and Etsy.com.
To make tape art, all you need is tape (duh), a canvas (or a wall).
[ad#ad-5]